"We are very pleasantly surprised by the ease of use of this printer"

"Dagoma's Magis, an ultra-simple and affordable 3D printer!"

"Easy, robust printer and online support from Dagoma is very efficient."

*We were missing some nice pictures to illustrate the opinions of our customers, so we took a bank of pictures

The  product
The smartest 3D printer
Automatic calibration
Don't waste any more time with the settings.
Easy to use
A single button to communicate with your 3D printer.
Amazing Design
Thought and drawn to take a place of choice in your home.
Included services
You don't just buy a 3D printer
Satisfied or refunded
You have 21 days to make your opinion
Available Customer Service
It's easier than calling Asia
2-year warranty
And even more thanks to our commitments against product obsolescence.
How to take advantage of the 21-day training?
Add the training product 21 days to your cart with your Magis 3D printer. The training price will automatically change to "offered". You have the possibility to pay an extra 15€ to receive the content in paper format.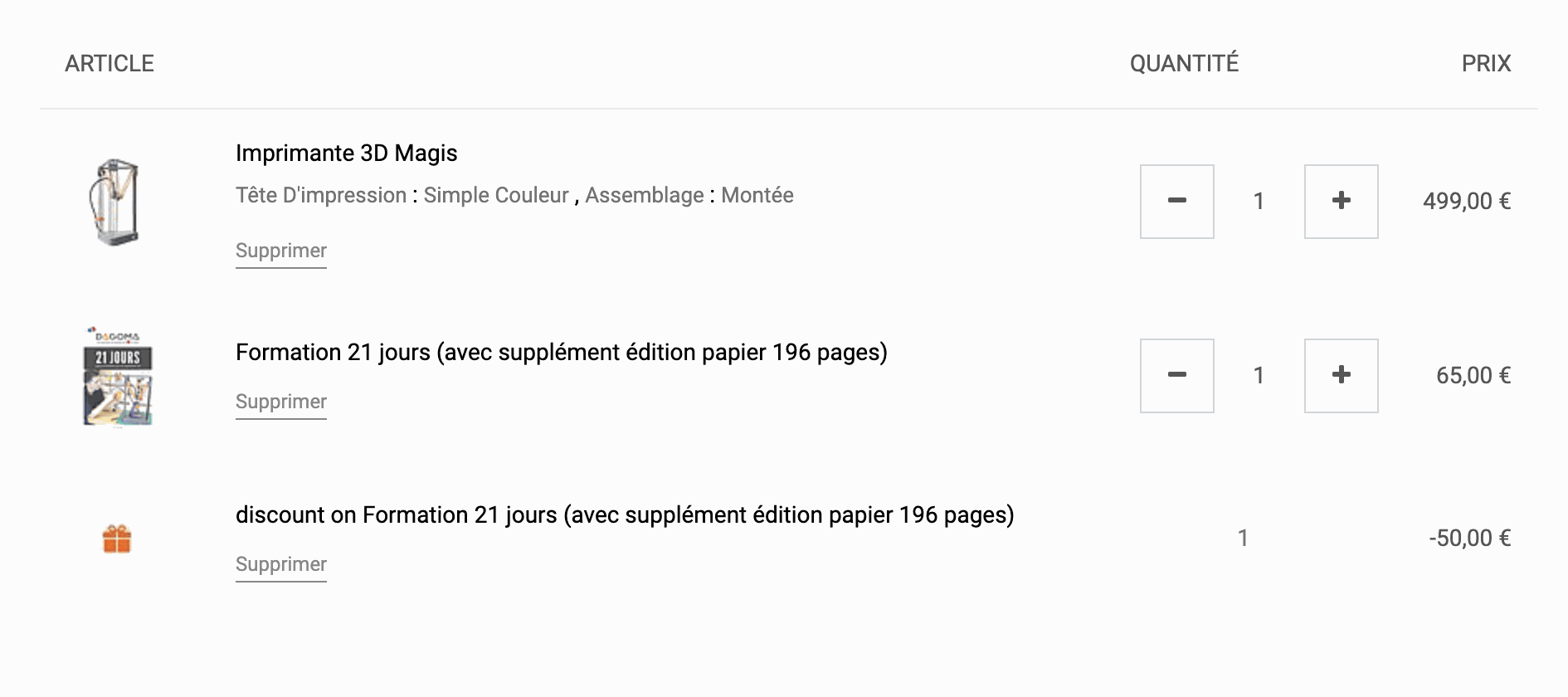 Magis 3D printer

Magnetic arms

Power Supply

SD card and SD/USB adapter

Isopropyl wipes

USB Cable

Spatula

Filament sample

 Offered product
Follow our training program

Add product to your cart to receive it for free with your 3D printer
Technology: Fused Deposition Modeling (FDM / FFF)

Print volume: D180 x 200 mm

Max print temperature: 270°C

Filament diameter: 1,75mm

Printing nozzle diameter: 0,4mm

Print speed: 30 to 100 mm/s

Standard mini layer height: 100 microns

X/Y tolerances: (+/-)0,2mm

Machine calibration: automatic

Filament Insertion: Automatic

Flexible filaments: optimized

Matériau recommandé : PLA, composite et effet bois, PETG, PUT, Nylon, Flexible, Métallique, Pailleté, ASA, ...


Print color: Multicoloured per layer (single extrusion)

Pause function: yes

Stop & Go : yes

Filament End Detection: Optimized Detector

Fan speed (revolutions/min): 11,000

Operating temperature: 18-28°C

Axis Drive: Belt

Ambient temperature: 0-35°C

Technology : Delta

In kit : no, already assembled

Ultra fast start-up

Plug & Play : yes

Weight: 4,3 kg

External machine dimensions: 305x275x535mm

Filament compatibility: flexible

X/Y accuracy: 50 microns

Accuracy in Z: 12.5 microns

Electronic board: MKS N01 - by Dagoma

Build Plate : Buildtak

File type: STL, OBJ

USB printing: yes

Slicer : Cura By Dagoma

Operating System: Windows Mac OS Linux

Compatible Software: All programs that generate a . STL file (Solidworks, Rhino, Tinkercad, Blender,...)


Our customers have talent: 
Specifications for 3D printer Magis
| | |
| --- | --- |
| Print head | Single color |
| Assembly | Assembled |